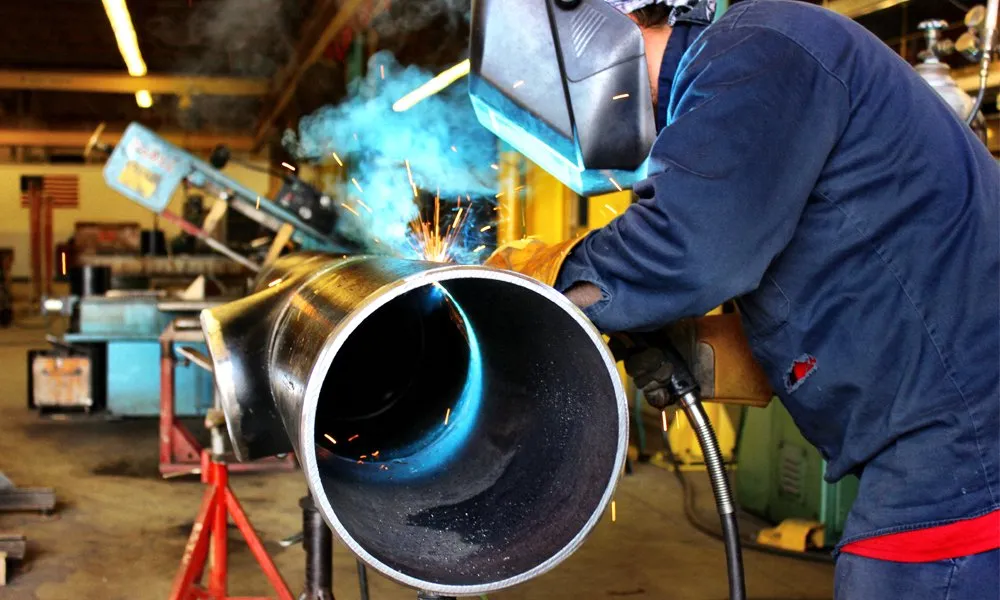 As a key industrial material, carbon steel pipes have a wide range of applications in the United States, ranging from infrastructure to manufacturing.
This blog will introduce you to the top carbon steel pipe manufacturers in the United States. and why understanding them is critical for industry professionals and buyers.
Industry Overview
According to the latest data, the U.S. carbon steel pipe manufacturing market has reached billions of dollars and is showing a steady growth trend.
Over the past few years, the carbon steel pipe market has become an important part of the U.S. industrial landscape, supporting demand in a variety of applications.
According to market analysts and industry experts, American pipe makers are expected to continue growing in the coming years and provide opportunities for manufacturers.
The U.S. steel pipe fabrication market has emerged with some major manufacturers occupying a significant position in the market. Market share data shows that these manufacturers play a key role in meeting customer needs.
Are you looking for carbon steel pipe supplier leads? Get comprehensive information on 10 steel pipe manufacturing companies through UNIASEN to help you understand this compelling market.
Top 10 Steel Pipe Manufacturers
| Company | City | State | Employee Size |
| --- | --- | --- | --- |
| Pennsylvania Steel Company | Bensalem | PA | 155 |
| Morris Coupling Co. | Erie | PA | 99 |
| Industrial Metal Supply | Sun Valley | CA | 300 |
| Allied Supply Company, Inc. | Huntsville | AL | 14 |
| Valmont Tubing | Valley | NE | – |
| Precision Welding & Fabrication | Houston | TX | 49 |
| American Piping Products, Inc. | Chesterfield | MO | 4 |
| Continental Steel & Tube Co. | Fort Lauderdale | FL | 49 |
| Richards Pipe & Steel, Inc. | Pacific | WA | 9 |
| Morris Coupling Co. | Chesterfield | MO | 999 |
Carbon Steel Pipe Suppliers — Company Profile
Pennsylvania Steel Company, Inc. was founded in 1972. Now the company has 8 regional warehouses. They offer products in different materials such as stainless steel, aluminum/carbon tubes, etc. Serving industries such as construction, government and defense, and irrigation. They have always prided themselves on being an independent, established company.
They are one of the largest steel suppliers in Pennsylvania and the Northeast. Two of the most popular products are carbon steel pipe and pipe. Widely used in wastewater transportation, oil and gas transportation, etc.
Morris Coupling Co. is a family-owned company and large pipe manufacturers. Founded in 1941 in Erie, Pennsylvania. It has manufacturing plants in Yili and other places. At the same time, in order to serve international customers, we have warehouses in Mexico, Europe and Asia.
Their products are diverse, such as couplings, bent pipes, straight pipes, etc. At the same time, carbon steel pipes, galvanized pipes and seamless steel pipes can be produced according to requirements, with detailed product dimensions and parameters.
Industrial Metal Supply is a metal supplier, including steel, aluminum, stainless steel and other metal materials. They offer thousands of metals, accessories, tools, and more, as well as laser cutting, economical purchasing, and other services.
They promise that small-volume customers can pick up their goods within a few hours, and large-volume orders can be loaded onto trucks and shipped out the next morning.
Allied Supply Company, Inc. is a pipe distributors, valves and fittings. They offer carbon steel, stainless steel, PVC, flanges and more, and all pipes can be customized. Also they specialize in sourcing hard to find products.
Their products are widely used in industrial, petrochemical, maintenance and other industries.
Valmont Tubing is a pipe manufacturers in USA. The main products are welded steel pipes and high-speed steel super structures. They offer the widest range of sizes of welded steel pipes in the industry, and the best-selling ones are ASTM specification steel pipes, such as A53, A135, etc. They are the go-to manufacturer for large outside diameter, light wall resistance welding.
Precision Welding & Fabrication was founded in 1990 as a full-service pipe manufacturing companies. Dedicated to precision welding and fabrication, they provide full range fabrication and installation of process piping, oil and gas fabrication, and structural steel. Serving various industries such as industrial, petrochemical, and commercial industries
American Piping Products, Inc. founded in 1962, Bull Moose is one of the largest producers of high-speed steel and mechanical pipe in North America. The main products include hollow structural sections, mechanical steel pipes, pipe piles, etc.
With more than half a century of experience in the steel industry, they have a deeper understanding of steel pipes and sprinkler pipes.
Continental Steel & Tube Co. is a well-known American steel company founded in 1936 and headquartered in Fort Lauderdale, Florida.
The company is a diversified supplier of a wide range of steels, alloys and other metal products to meet various industrial and market needs around the world.
Richards Pipe & Steel, Inc. is a seamless pipe suppliers located in Alabama, United States. They specialize in supplying and processing a wide range of steel pipes and steel products.
Their products are diverse and include seamless steel pipes, welded steel pipes, galvanized steel pipes, stainless steel pipes, etc.
Bull Moose Tube Co. is a well-known steel pipe manufacturer in the United States. They focus on producing high quality steel pipe and tubing products.
The company offers various types of steel pipe and tubing, including structural steel pipe, mechanical steel pipe, pressure pipe, natural gas pipe, water pipe, electrical pipe and other custom pipe. Their products cover multiple markets and industries.
As a carbon steel pipe manufacturer. We understand the importance of quality, innovation and reliability.
Whether you are looking for high-strength, high-performance pipe or
require
a custom solution, UNIASEN carbon steel pipe manufacturers can meet your needs
.
We are all willing to be your partner, if you have any questions or needs about carbon steel pipes, please feel free to contact us
.